Paupiette
Cut each fillet as close to a rectangle as possible (5 x 2 inches in size). You can cut the ends slightly of the fillets so you are able fold them under the tail end. Slice the potatoes using the Japanese turning slicer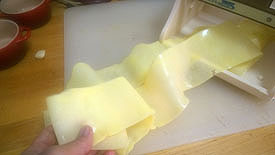 and then cut into potato sheets of 1 inch x 6 inches.
Lay the potato strips on wax paper and brush the slices on both sides with the melted butter and season with salt. For each paupiette, use a 10-inch sheet of wax paper and arrange 8 slightly overlapping potato slices to form a 5-inch wide rectangle. Center a fish fillet horizontally in the rectangle and wrap the potatoes over and around the fillet to enclose it completely. Use the wax paper to help seal the potato wrap around the fish; remove the paper. Repeat for all the fillets then cover and refrigerate for up to 2 hours.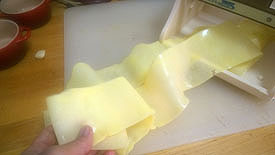 Cook the leeks --In a medium skillet, melt 2 tablespoons of the butter over moderate heat. Add the leeks and cook, stirring, until softened, about 5 minutes. Season with salt and pepper and keep warm.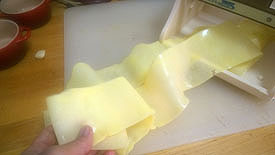 In a large nonstick skillet, melt the remaining 2 tablespoons of butter over moderately high heat. Add the paupiettes and cook until the potatoes are tender and golden, turning once with a large spatula. By the time both sides are crisp the fish should be cooked through. For thicker pieces of fish you may need to insert the pan into the oven for 3-5 minutes.
Assembly--Spoon the leeks onto 4 warmed serving plates and ladle the Barolo Sauce around them. Set the paupiettes on the leeks and top each one with a thyme sprig. Garnish with the a baby leek and serve.